If there is one thing that has not changed in 50 years at Mensor, it's pressure.
The Beginning of Mensor
Seven of the company's eight founders – Jerry Fruit, Bob Shearer, Joel Gordon, Matt Buscha, Ken Moss, Bud Looney, Larry Adams and Paul E. Neilson – worked together for Texas Instruments (TI) in the pressure gauge division. When TI stopped funding product development in the Pressure Instrument Group to focus on other technologies, Fruit began the process of starting a new company that would continue to develop the market for precision pressure instruments.
Mensor was officially incorporated on June 24, 1969, and began business with only five employees in Houston, Texas. The company's objective was to design and manufacture high accuracy, high quality, easy-to-use pressure devices. The first product, a quartz manometer for the aerospace industry, shipped in 1970.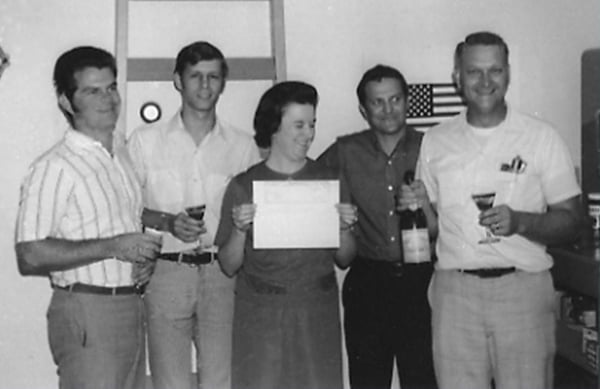 First check in 1969 - Larry Adams, Paul E. Neilson, Dorothy Herbert, Jerry Fruit, Matt Buscha
In July 1978, Mensor relocated to San Marcos, Texas, an area where many employees spent their vacations. The founders felt Houston was growing too quickly and becoming too competitive a market for skilled employees, so the company – and over 30 families – made the move northwest.
Less than three years later, the production facility caught fire on Friday, Feb. 13, 1981. The fire gutted the building and operations ceased, but only temporarily. Because of the support of employees, customers, vendors and the San Marcos community, Mensor was back in a newly constructed building and able to ship products within six months.
Extensive Experience and Unmatched Technology
Mensor has always prided itself in being customer centric by developing calibration solutions that are market driven, through products that will help customers do their jobs better, more efficiently and in less time.
A key to the company's strength in the marketplace is the experience of its employees in the field of precision pressure measurement and control. During their time at TI, Mensor's founders were involved in the design of the original quartz bourdon pressure gauge, which led to the design of Mensor's early manometers and controllers.
By the early 1990s, Mensor shifted its core measurement technology from quartz to silicon. This shift came from the company's focus on providing technology that was more user friendly and affordable for customers. Mensor's R&D team was able to develop silicon to a level unmatched in the industry. These advancements led to modern day Mensor calibration products like the CPC6050 and CPT9000.
At a time when many of the company's founders had retired or were planning to retire soon, Fruit and Neilson started looking into merging the company with a larger corporation. Mensor needed more capital to grow and fund future R&D projects and opportunities.
Acquisition and Global Presence
Enter the WIKA Group, a global manufacturer of pressure, temperature, level, flow and force measurement technology, who acquired Mensor in 2006. Mensor's reputation for an outstanding portfolio of pressure instruments solidified WIKA'S position as the worldwide market leader in calibration.
Employees are Family
Despite Mensor's humble beginnings, the company has since grown to almost 100 employees; 14 of which have been with the company for more than half its lifetime.
Another constant at Mensor has been the family-oriented atmosphere. For decades, employees have been celebrating holidays, birthdays, work anniversaries and retirements together. They've participated in community cookoffs, corporate challenges and other longstanding office traditions like the 'watermelon seed spitting contest.' Giving back to the community employees live and work in has always been important to Mensor as well, leading to annual fundraising and food drives, and the formation of an employee-led nonprofit called Mensor Cares.
Mensor has undergone many transformations in the last 50 years - from the original founders and their small group of employees to the large international team we're part of today - but our commitment to quality, customer satisfaction and innovation will never change.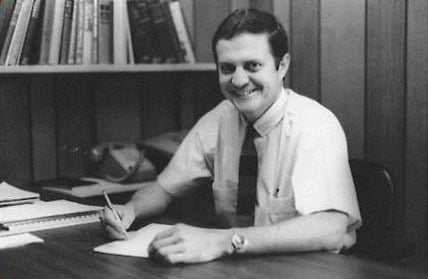 In Loving Memory of Jerry Fruit, 1933-2019