Pneumatic pressure calibrators and controllers are designed to operate in clean dry air or nitrogen, but are often subjected to particulate, water or oil contaminants. This can lead to frequent repair and maintenance, and can cause irreparable damage to the pneumatics inside the instrument. The most common source of contamination in a pneumatic calibration environment is the device under test (DUT). Often the DUT gets contaminated in its regular use. This is especially true for field equipment where a variety of pressure media exist. There are several ways to decontaminate the DUT both before and while performing the calibration. It is considered good practice to drain the DUT along with any relevant process connections (several times) and perform a cleaning process prior to the calibration. This practice, however, requires an additional stage in the process flow with added resources and cost. A more effective way to decontaminate is by using either a manual or automatic contamination prevention system.

The contamination prevention system is in-line with the DUT and the calibrator/ controller such that in the event of pressure flow (negative pressures, venting or controlling down in pressure), the flow is routed through a liquid trap and coalescing filter before entering the instrument.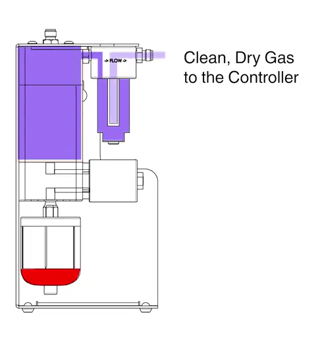 A manual contamination prevention system needs to be enabled or disabled, depending on the direction of pressure flow. This weighs heavily on efficiency, which is the major advantage of using pneumatic calibrators and controllers. An automatic contamination prevention system provides all the benefits of the manual version, in addition to having an automatic actuation system to direct the pressure flow by itself.
Mensor offers an Automatic Contamination Prevention System (A-CPS) for use with the CPC4000 and CPC6050 pressure controllers. The A-CPS does not require any additional power supply and derives its power from the pressure controller. The A-CPS can be governed by the pressure controller user interface to ensure uninterrupted use. It assists in pre-cycling the DUT and filters the pressure going from DUT to controller.
Related Reading: