Not all testing and calibration happens in a lab. Many industrial applications rely on Mensor to provide the speed and accuracy you need.
Mensor's CPC3050 High-Speed Pressure Controller is ideal for end of line testing, verification and calibration in fast-paced environments such as sensor manufacturing for automotive as well as oil and gas industries.
It has the versatility to fit in a wide array of factory settings and the durability to maintain around-the-clock output.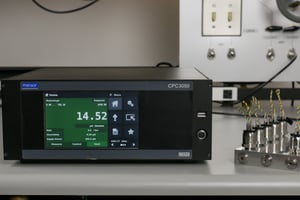 Design
At the heart of the CPC3050's robust design is an innovative regulator specially designed for high-speed pressure control. It features two transducers with customizable ranges as well as a barometric reference option to emulate absolute or gauge pressure. Its compact chassis can be configured into a rack's existing setup, or as a desktop instrument for rack-mount applications.
Performance
The CPC3050 features intuitive software and an interface similar to the CPC6050 and CPC4000 Pressure Controllers. Its customizable applications and sequences allow you to select and run automated tests with Mensor's built-in controller software.
The control speed allows it to complete a three-point verification in under ten seconds providing quick and accurate readings. The instrument's accuracy and stability ensure a precise reading is delivered at each pressure point.
For more information about Mensor's CPC3050 High-Speed Pressure Controller, click the button below!
For over fifty years, Mensor has been your partner for pressure applications. Delivering quick, precise pressure control –when time matters: Mensor.
For more information on our full line of pressure measurement, control and calibration solutions visit us at www.mensor.com or call us at 800-984-4200