So it's time to calibrate your pressure instrumentation; a sensor falls out of tolerance; you want to give your device a traceable calibration; or the unthinkable has happened and your equipment needs repair. Time to fill out a product return form!
When you fill out the product return form it initiates a conversation with our Customer Service Department. When you hit submit, they receive an email with your contact and company information, details about what service you require as well as any other information you provide.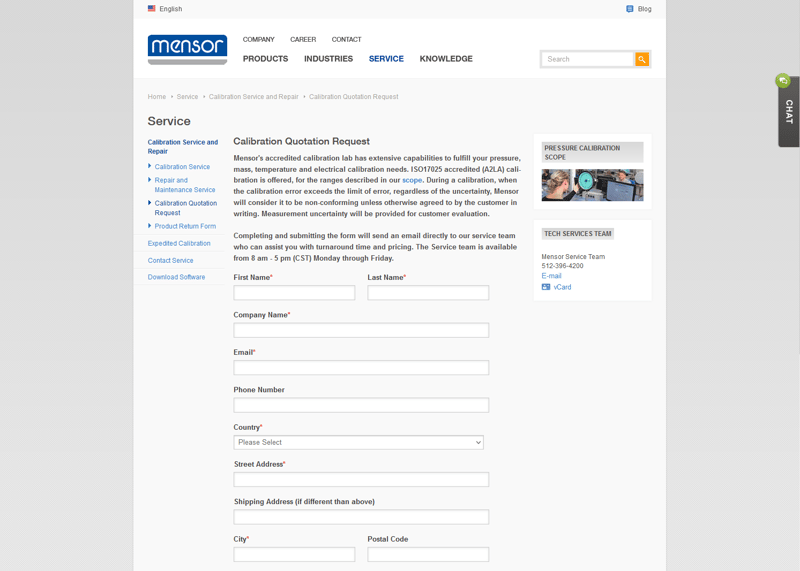 At the same time, you will receive a confirmation page. It's important to print this page and send it with your equipment. This sheet stays in a packet with your instrument through shipping and service. It informs our crew what we need to do and where to ship your equipment when it's done.
Fittings, hoses and accessories that are not permanently attached to the instrument don't need to be sent with the product return. We have all necessary accessories in our facility.
Sending a product in for routine maintenance or repair can feel a lot like sending a kid off to college – you no longer have a watchful eye over them. Are they being taken care of? Are they getting into trouble? Are they having too much fun? Will they come back home on time and better for the experience?
Once we receive your instrument, our team unpacks it, and takes it to either our repair and maintenance department or our accredited calibration lab.
Depending on complexity and the load of our product returns, we usually have an instrument at our facility for 2-4 weeks. Repairs are normally returned within four weeks depending on the part availability and the labor required. Calibrations are often completed in two weeks. For quicker turn-around, we also offer expedited calibration which guarantees your calibration will be completed within five working days of receipt at Mensor.
Once we have serviced and tested your device and clear it to be sent back home, we prepare it for shipping. We go back to the confirmation sheet you sent, clear any outstanding balances and ship it back to your included address with package tracking so you can stay up to date with your equipment's location and ETA.
Whether it was manufactured here or not, we accept most pressure and temperature instrumentation for service, calibration or repair. It all starts with a product return form, for which you can click below:
Related reading:
https://blog.mensor.com/blog/external-factors-and-corrections-in-pressure-calibration
https://blog.mensor.com/blog/tag/branding